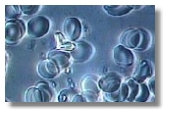 Blood Photo Showing
Uric Acid Crystals



Blood showing Rouleau(Stacking)
of Red Blood Cells



Blood showing a
Cholesterol Plaque



Blood Showing Spicules(Fibrinogen)
indicating liver toxicity


| | |
| --- | --- |
| | |
Advanced Health | Live Blood Analysis
"Health and Vitality are Inside Each and Every One of Us"
Practitioner Training in Live Blood Analysis

What is Live Blood Analysis?

Live Blood Analysis (or LBA) is the microscopic examination of a drop of a patients blood in its Live Condition while the patient observes first hand the whole process on a video monitor. The practitioner then describes the sample and explains the images to the patient. Both practitioners and clients agree LBA is a superb educational and motivational tool, in this case "seeing is really believing"!

How does it help my patients?
Your patients can see for themselves the exact state of their own blood and easily relate to the information.


It provides such excellent visual feedback that it stimulates the patients enthusiasm for making changes to their health and gets them directly involved in the process.


Through LBA patients develop greater understanding of the functioning of the body, the importance of a healthy diet, and the value of your treatment and nutritional supplements.


Often, for the very first time, people get to see an absolutely vital, but essentially mysterious, aspect of their own bodies.

What specifically will you see?

LBA is an excellent indicator of


Vitamin and mineral deficiencies such as iron, B vits, Folic acid EFA's, calcium, magnesium, zinc etc.


Chemical toxicity and dehydration.


Bacterial/Viral/Fungal (Candida) infections.


Leaky Gut, Bowel dysfunction/ absorption problems


Early warning signs of potential cardiovascular health issues, eg Cholesterol plaques.


Liver stress and associated tiredness issues.


How does it help my practice?


LBA offers practitioners an insight into the microbiological world of your patient's blood. This has enormous value for a more thorough assessment of your client's health status.


Having experienced LBA, patients are keen to begin the treatment regime designed for them, and eagerly anticipate returning for follow-up appointments to see any changes.


LBA allows you to monitor and constantly improve your treatment protocols. It is a valuable tool is assessing the efficacy of recommended supplements


It is immensely fulfilling for practitioners, and rewarding in terms of referrals from satisfied customers.

The Course Contents


| | | |
| --- | --- | --- |
| | | Instruction on the use of the microscope for Live Blood Analysis. |
| | | The theoretical basis of LBA. Practical experience in slide preparation. Identification and assessment of all blood cells and plasma inclusions. |
| | | Discussions on the nutritional influences on cell formation, and how to restore cells nutritionally to a healthier state. |
| | | Assessment of the blood sample and its relationship to overall patient health, including the functioning of body organs and systems. |
| | | Instruction on improving the quality of your patient's blood, using specific nutritional and herbal remedies to assist in cleansing and repair of the body. |


Who is the course for?

Live Blood Analysis is an excellent tool that can easily supplement an existing Health practice, or add an additional skill to newly graduating practitioners. Course participation is only available to trained and accredited Complimentary Health Practitioners, Doctors or registered nurses. Successful completion of a course in anatomy and physiology is an essential pre-requisite for this course.

Upon Completion of the Course

Upon attaining a satisfactory standard, participants will be invited to join the Irish Association of Live Blood Analysis Practitioners. The association will facilitate the referral of patients to the practitioner nearest them. Course graduates will also be eligible to attend Postgraduate training for ongoing professional development. This will include skill development, supplement, product and treatment updates, and networking with other Live Blood Analysis practitioners.



"I was absolutely amazed at what I saw in my own blood! It confirmed what I thought was causiing my illness"
S. Williams, Co. Dublin.

"I could hardly believe the improvement in myself after following Helen's recommendations, it has been so helpful"
G. Walsh, Ennis, Co. Clare

"Fascinating! It's not just seeing what's going on inside you, but the information I got made it easy for me to start doing something positive for myself"
B. O' Loughlin, Co. Limerick

"This has been so important to me! It has allowed me to take charge of my health. Before doing the Live Blood Test I didn't know what to do, now I'm following a definite plan and my overall health has improved hugely."
M. McDonough, Co. Galway